Susan & more about Whirlwind Pottery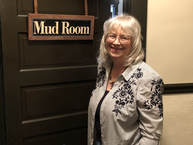 My work is deeply spiritual and reflects my life experiences. Each body of work I create represents part of my journey, and therefore you will see joy, a love for nature, healing, fluidity and a respect for heritage throughout my pieces. I seek excellence but not perfection. I often alter forms as life alters us
.
I rejoice in the colors of nature and relish in all the seasons. Truth and honesty are important to me and are always reflected purely in black and white. I am forever pushing the edge and often take risks, seemingly vulnerable, but always surprisingly strong and this too is reflected in my creations. The work you see today will be as different tomorrow as we ourselves change and grow.
I've been working in clay almost 30 years. And today I still feel the connection and wonder I felt the first time I touched clay. Art was always within me, though it took some time to connect with what was right for me and then to allow myself to live my dream. I imbued myself in classes and workshops. I met incredible, renowned artists. I was surrounded by some of the most sharing teachers possible, who, even having reached national and international stature,were always willing to share all they knew about working with clay.
Still I realized I had to find the art inside of me. Immersing myself in my own beautiful studio. I focus on discovering all there is in clay and in me. Finding much, there is always more.
While displaying my work in good galleries, great shows and noted exhibits expanded my abilities, I realized I mainly wanted to be here at my beloved studio home, focussed on the creative process. My studio centers me and enables me to uplift others and share the joy of what I do.
Click
here
to read about Process Insights and glimpse my creative process. Also by clicking
here
, you can visit my now fully evolved online gallery through Etsy to see my work, & any items you like can be purchased & be delivered to your door.
By the way - why Whirlwind? A whirlwind (tornado) knocked down some valuable old trees on the property, and the money from them was the foundation of the business!
---